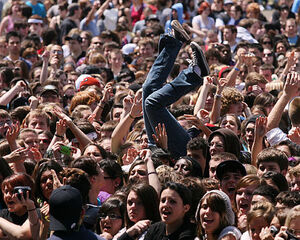 The Bamboozle Festival 2012 will celebrate its 10th Anniversary on May 18-20, in North Beach Asbury Park, New Jersey!
ABOUT THE FESTIVAL
The festival is a 3 day, rain or shine event that features up-and-coming artists from all over the country, and entertainment to satisfy all types of music lovers. 2012 LINE UP
Big acts that are scheduled for the 2012 Bamboozle Festival include Bon Jovi, Foo Fighters, and Blink-182.
THE VENUE
For the 10th anniversary, The Bamboozle Festival is getting back to where it all began...Ashbury Park, New Jersey. The elegant, picturesque oceanfront location has a main stage,and eight other stages, to keep festival-goers entertained throughout the weekend.