Sasquatch! Music Festival is an annual music festival in George, Washington. It is presented by The House of Blues.
It is held at The Gorge Amphitheater Music Venue. Consisting of 5 stages playing music throughout the 4 day festival: The Main Stage, BigFoot, Sasquatch, Banana Shack, and Yeti.
The 11th annual festival takes place May 25-28, 2012.
Sasquatch! Music Festival Offical Website
2012 Lineup
Edit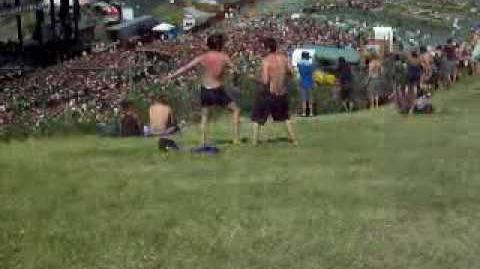 *Jack White
Beck
Bon Iver
Pretty Lights
Tenacious D
The Shins
Beirut
Girl Talk
The Roots
Portlandia
Feist
Silversun Pickups
Metric
Explosions In The Sky
The Joy Formidable
Mogwai
Nero (DJ)
M. Ward
John Reilly & Friends
Childish Gambino
St. Vincent
The Civil Wars
Jamey Johnson
Little Dragon
Wild Flag
Blind Pilot
Wolfgang Gartner
Beats Antique
Apparat
The Walkmen
Clap Your Hands Say Yeah
Mark Lanegan Band
Spiritualized
Blitzen Trapper
The Cave Singers
Shabazz Palaces
Fun.
Grouplove
Tycho
Sbtrkt
Strfkr
Ted Leo and the Pharmacists
Deer Tick
Imelda May
Alabama Shakes
Dum Dum Girls
The Helio Sequence
Kurt Vile
Cloud Cult
CAMPING AND VENUE INFORAMATION: Edit

The Gorge Ampitheater is an outdoor venue near the Colombia River located at 754 Silicia Rd., George, Washington. It is a 9 time winner of of Pollstar Magazine's award for Best Outdoor Music Venue. The Gorge has played host to SASQUATCH! for the past 11 years.
PARKING: There are designated parking opening at 9am for those not camping.
CAMPING: When you buy your 4-day ticket, it includes your General Admission for the duration of the 4-days, as well as camping. You do not have to purchase a camping pass seperately. When you arrive, you will be ushered to a camping spot, on a first come, first serve basis. There are showers/honeybuckets stationed all throughout the campgrounds. (Honeybuckets = portable toliets and sinks). Showers are few and cold.
You can also purchase more VIP camping passes or RV passes .