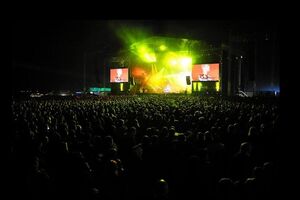 It all began in 2002, as a one-day event in Warsaw, featuring, for the first time in Poland, The Chemical Brothers. In 2003, the festival moved to Gdynia. Cassius, Kosheen and Layo & Bushwacka! rocked the crowd at Skwer Kościuszki, In 2004, all music lovers could enjoy the festival for as much as two days, to the music of Cypress Hill, Pink, Goldfrapp or Massive Attack, and fulfilled all of the Sk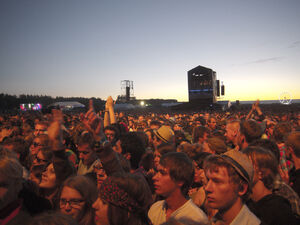 wer.
In 2005, the promoters brought the biggest names to date. 25,000 festival goers got their chance to watch Snoop Dogg, Faithless, Fatboy Slim, Lauryn Hill, The White Stripes and Underworld. On the 1st day, all one-day tickets were sold out. Skwer Kościuszki became too crammed for the crowd, so in 2006, the festival moved to Gdynia, Babie Doły – Kosakowo airfield. The promoters stretched the festival to three days. Gdynia was invaded by world's finest music stars, including Placebo, Pharrell Williams, Franz Ferdinand, Sigur Rós, Scissor Sisters, The Streets, Kanye West, Basement Jaxx. 2007 brought an even more impressive line-up, with concerts from Sonic Youth, Groove Armada, Beastie Boys, Muse and Björk. In 2008, as many as seven stages were set: Main Stage, Tent Stage, World Stage, Young Talent Stage, Alter Space and two electronic spaces. 50K audience witnessed performances from, among others, The Chemical Brothers, Jay – Z, Roisin Murphy and Editors. In 2009, the programme was enhanced by the addition of Alter Space – the place for novelty projects. 2010 witnessed the performances from, among others, Pearl Jam and Kasabian, and the appearance of even more new activities, e.g. Kids Zone. During the last edition, Babie Doły was the place for fun for 85,000 festival goers, of which 1/4 lived in the camping field, and the event was reviewed by ca. 500 journalists.
This year, the festival featured who may be the biggest stars to date, who never visited Poland before, such as Prince, Coldplay and The Strokes. They are not the only artists, who played Poland for the first, and often the only time, at Open'er Festival Other include Snoop Dogg, The White Stripes, Underworld, Sigur Ros, Franz Ferdinand, Kanye West, Sonic Youth, Muse, Kings Of Leon, Arctic Monkeys or Interpol. The Open'er audience could also witness exceptional concerts, such as Faith No More, reunited after years of silence, or the punk legend Sex Pistols. The festival is also a great place for Polish artists, giving them a unique opportunity to perform in front of an audience of dozen thousands, often for the first time.
Interesting facts
Edit
The total number of festival goers in nine years amounted to 341,000, which equals the population of the capital of Australia – Canberra. In nine years, the festival site has spread from 3 hectares in 2002 to 75 ha in 2010. During all these years combined, it took up 388 ha, a surface of a small airport.
Official web: www.opener.pl