High Sierra Music Festival 2012
High Sierra Music Festival occurs every 4th of July weekend in Northern California. High Sierra has been going on since 1991 and started as an independent production company in Berkeley, CA. It remains committed to its grassroots origins by drawing support from a loyal community of volunteers, sponsors, music-lovers and artists. The event is held in Quincy, CA and celebrating it's 22nd year. The event draws close to 10, 000 people each year with often 50 performers on four stages and multiple venues. The fairgrounds are surrounded in a beautiful, small mountain town and offer places to swin, hike, fish and bike.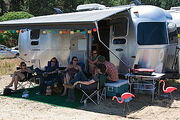 Camping is based on a first-come, first-serve basis. Camping can be cozy if you don't get there early and find a space especially in Shady Grove, Hill Grove and Big Meadow. Camping in RVs can be especially fun if you have families and are in need of air conditioning.