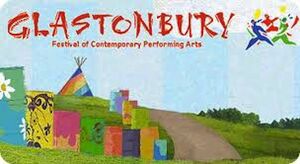 Glastonbury Festival of Contemporary Arts (commonly abbreviated to Glastonbury or Glasto) is the largest festival in the UK. It started in 1970, the day after Jim Hendrix died, and takes place near Pilton, Somerset, England. The festival is organised by Micheal Eavis and takes place on his Somerset farm.
The first festival took place over 2 days and saw 1,500 attendees. Today, the festival lasts 5 days and more than 135,000 attend.
Ad blocker interference detected!
Wikia is a free-to-use site that makes money from advertising. We have a modified experience for viewers using ad blockers

Wikia is not accessible if you've made further modifications. Remove the custom ad blocker rule(s) and the page will load as expected.