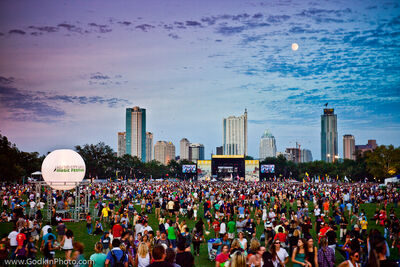 Austin City Limits is an annual three day music festival located in Austin, Texas at the city's public park, Zilker Park. The festival attracts a localized audience giving it a very Texas feel. ACL brings in over 130 acts from around the globe who play rock, electronic, country, and folk. The festival attracts over 70,000 fans a day.
On August 16, 2012 Austin City Council members voted unanimously to allow the Austin City Limits Music Festival to expand to two consecutive weekends beginning in 2013.
Ad blocker interference detected!
Wikia is a free-to-use site that makes money from advertising. We have a modified experience for viewers using ad blockers

Wikia is not accessible if you've made further modifications. Remove the custom ad blocker rule(s) and the page will load as expected.